We came across an interesting article by Techinasia on a guide to getting the best standing desk for your needs. In the article, they pointed out factors that need to be considered thoughtfully when looking for a suitable standing desk, amongst the tons of standing desks available in the market.
Standing Desk
Standing desks can be generally classified into 3 different types – desktop attachments (also called sit stand desk converter), sit-stand desks, and stand only desks.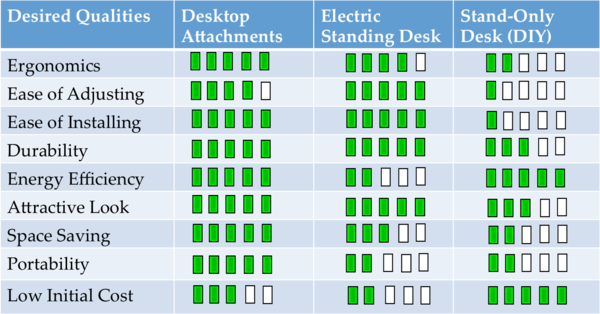 (Image: Techinasia)
Types Of Standing Desk
Desktop Attachment – The desktop attachment type of standing desk is also referred to as a sit stand desk converter. This type of standing desk is considered as one of the more popular options available in Singapore. This option is good if the layout of your home or office is fixed, and you are unable to place an entire height adjustable desk there. By placing a standing desk on top of your home or office desk, it converts your sitting desk to a sit-stand desk. As it is portable, you can move it around to wherever you want.
The height adjustment of the standing desk of this type is usually made with a lever – hydraulic gas lift that is located on one side of the desk and is relatively easy to adjust. As it can be adjusted to different heights within the limit, it can suit the different needs of people.
Sit Stand Desk – Another type of the standing desk is the Sit-Stand Desk and it is available in 2 different versions – A manual cranking adjustment standing desk and an electric standing desk. The prices of these standing desks can range from around one hundred dollars to over a thousand dollars for premium ones.
The sit-stand desk may be good as it has a larger desk surface as compared to the other standing desks. However, one consideration that has to be made is whether you would want to get a manual crank standing desk or an electric standing desk. The manual cranking adjustment might be troublesome if you intend to change to a sitting, or standing position once every few times in a day. The electric standing desk is easier to adjust in height as compared to the manual crank, but it has to be placed near a power socket as it uses electricity (Uses one of your power sockets too).
Stand Only Desk – The other type of standing desk is the Stand Only Desk and it is not as common as the previous 2 types of standing desk available. The stand only desk is good if you are just starting the habit of standing while working. However, it only works if you have another spare desk that you can sit and work at or have a sit-stand stool which allows you to sit on if you are tired after standing for a period of time.
The disadvantage of the stand only desk is that as the height of the desk is fixed, it might not be suitable for you depending on your body profile and height. Hence, it is less versatile as compared to the previous 2 types mentioned.
Conclusion
There are a lot of considerations that have to be made while looking for a standing desk that suits you. Hence, be sure to know what you are looking for before investing in a standing desk. Our range of standing desks available are the electric standing desk, sit stand desk converter, standing desk plus and the ergonomic laptop desk. Find out the health benefits of a standing desk here.